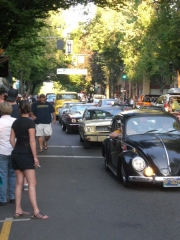 One day early in June, Ingo and I went to Noah's wine bar off 3rd street to talk about wine and helicopters when we happened to meet Ruben Contreras and learned about the Dragging the Gut Festival.  My first response was "dragging the gut?! What kind of name is that?" but Ruben's enthusiasm was contagious and it didn't take long for intrigue to take hold.
Having a muscle car buff for a father, I started to think of the possibilities and how cool it would be to drag the gut ourselves.  Of course, helicopters is a tough business so we would have to get pretty creative to find a car cool enough to cruise in.  Then it occurred to me, what if we could create a Konect Aviation award for the hottest car?
Well the rest is history, and August 25th I got the afternoon off of staffing wine country tours to go to the Ezra Koch Car Show, find the hottest car, and award it Konect Aviation's trophy.  Even though I worried that I didn't have what it takes to give a car award, I trusted my upbringing and worked my way through the amazing selection of nearly 100 car entries.
It was an amazing collection of cars, making it the best car show I have been too.  Fortune would have it, though, there was one car that was the perfect Konect Aviation award.  I couldn't have imagined I would stumble on this car making the decision so easy and I almost couldn't believe my eyes.  Low and behold, a 1968 Shelby Mustang GT 500 Eleanor with Carroll Shelby's signature on the dash.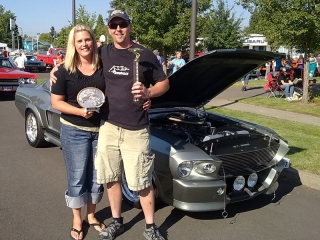 What makes the 1968 Shelby GT500 the perfect car for the Konect Aviation trophy?  Well, not only is the designer Carroll Shelby known for racing and designing high performance cars, he is also known for his aviation experience as a flight instructor and test pilot during WWII.  You can find a bit more about him and his cars at the following web pages
Thanks Chad and Lisa for showing off your awesome car!