2013 proved to be another good year for the Ezra Koch Car Show here in McMinnville, Oregon and Konect Aviation was honored to have the privilege of awarding a trophy again this year to the hottest car! There were many amazing cars and after narrowing down the competition to less than 10 cars out of nearly 100 I really started to feel the pressure.
Honestly, I knew the car I would choose when it drove through the entry gate but was determined to give all the rest a fair shake.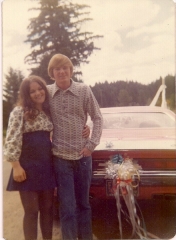 Even after taking a closer look, this car screamed quality, original American craftsmanship and high performance.  Add on top of that my personal nostalgia for the Dodge Challenger, we've got another no-brainer for 2013.
Meet Steve and Sharon, proud owners of a 1970 Dodge Challenger! In 2013 one might argue the car is in better condition than when Steve bought it in 1972 for $2100.00. He has kept the car true to the MOPAR design with only upgrades originally offered as options and the restoration of worn parts and interior. Since he is a mechanic, he has done most of the work himself but did get it professionally painted in 1992.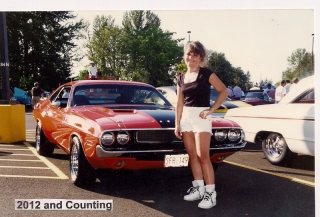 The 1970 debut model of the Dodge Challenger was arguably the best in terms of options. According the article "Dodge Challenger: History of the Dodge Pony Car" (Tyll, 2008), there were 9 power-train options available in 1970 a number which was drastically reduced the 4 subsequent years the Challenger was produced due to increasingly more strict EPA and Safety standards.
"So what's under the hood?" you might ask. This car has the 340 cubic inch V-8 to which Steve added the Six-Pack option later on which has three Holley carburetors with a total of 1350 cfm. What makes this one special is that it has the A66 Performance Package with the following features: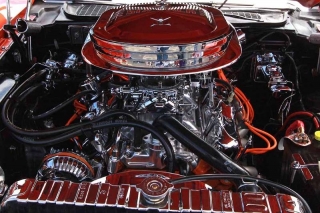 raised hood with call-out emblems
150 mph speed-o-meter
Rally dash with needle gauges
front sway bars
15 inch Rally wheels
heavy duty 11 inch front and rear drum breaks
3-speed console shift 727 transmission
full-harness seat belts
There is a lot more to this car, but I tell you what makes it really special is that Steve and Sharon have kept this American Classic as a family car in such great condition and are now sharing it with their 7 grandchildren who will likely get to appreciate it when they are old enough to know what it is.
Thank you Steve for sharing your awesome car!!!
To learn more about the Dodge Challenger visit this article.