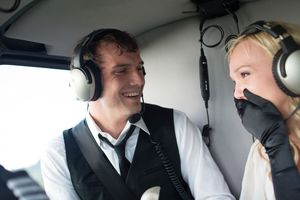 Proposing to your future bride should be a special moment. We had quite a few customers that chose to propose to their girlfriend using our helicopter services.
There are a lot of options and there are always new ideas we can work on with you. A couple options we have done in the past were:
Propose during a flight in the helicopter
We will take you up on a helicopter scenic flight and show you the beauty of the Pacific Northwest. It could be just a short ride around the Willamette Valley and it's wineries or something longer to Mt. St. Helens, over Portland, the Columbia River Gorge, or over the Pacific Coast.
Our aircrafts have the best active noise reduction technology headsets. You can talk to your fiancée to be just like you do on the phone. We'll even play some music in the background.
Once we are over your favorite spot you can pull out the ring and propose. How could she not say "yes" at that point?
Proposing on a quiet, secluded ridge or island
We are able to land during a scenic tour to give you the time to propose in private to your girlfriend and future fiancée. Take the love of your life up on a helicopter scenic tour. We land on a river island, during the tour. You will get off the helicopter and propose. We will even throw in a bottle of sparkling wine for you to celebrate that she said "yes".
Helicopter picnic or romantic lunch with a beautiful view
Another option is to have us stop for a picnic. Have a romantic picnic on a river beach, or at a romantic winery with a beautiful view over the Willamette Valley.
There are probably thousands more options and we are happy to include your ideas and make it even more special with your personal touch.
Look at some pictures of a couple helicopter proposal flights we did in the past.